Our Child's Primary Educators
Parents are the child's primary educators, and the life of the home is the most potent factor in his or her development during the primary school years. There is a continuing process through which the child's formal learning experience in school interacts with the less formal developmental experience of the home and the family.
It is widely recognised that significant educational, social and behavioral benefits accrue to the child as a result of effective partnership between parents and teachers. Close co-operation between the home and the school is essential, therefore, if children are to receive the maximum benefit from the curriculum. (Primary School Curriculum Introduction, 1999, p21).
Please see our Resources page where we have compiled some useful links and information for parents.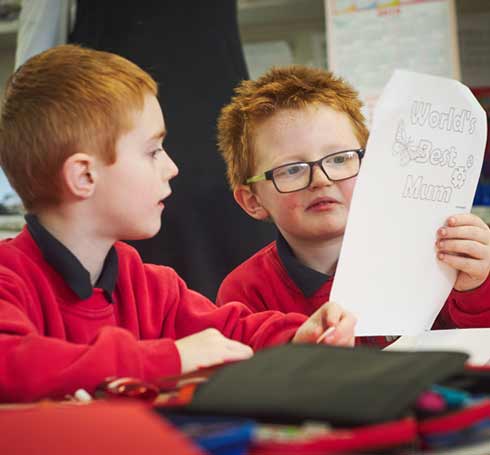 School hours
Timetable for the school day in Clarecastle National School:
9:00am  Children assemble in class groups in the yard
10:55am SOS
11.10am  Classes recommence
12:45am  Lón
1:15am  Classes recommence
1:45pm  End of school day (for Junior & Senior Infants)
2:45pm  End of school day (for all other pupils)
School Uniform –
Boys
Navy polo tee shirt
Navy trousers
Red sweatshirt
Black or Navy Shoes
Girls
Navy polo tee shirt
Navy pleated skirt/trousers
Red sweatshirt
Navy socks or tights
Black or navy shoes
School Attendance
Children who are sick must stay at home.  Every absence of a child must be accounted for by informing the class teacher in writing. This will be kept on file at school.  Parents can also record the reason for any absence through Aladdin.  Under the terms of the Education Welfare Act (2000) the school is legally obliged to inform the National Education Welfare Board of the names and contact details of pupils who are absent in excess of nineteen school days in any given school year, irrespective of the reason for the absences.
Healthy Eating
It is our school policy to encourage children to eat a healthy diet.
Children will need a good breakfast to start each day and plenty of time to eat it.
Junk food is discouraged. Studies have found that it stimulates hyperactivity and has an adverse effect on children's performance and behaviour. A sandwich and fruit make a healthy lunch. Drinks may be put in a plastic container or bottle. The use of hot drinks for lunch is not encouraged. No yoghurts, Frube tubes or yoghurt drinks.
Choose a lunch box and drinks container that your child can open easily.
Traffic Warden
Bríd is the Traffic Warden with the responsibility of directing children across the road.
Children should cross with the Traffic Warden at all times.
Refrain from parking on double yellow lines as they may cause an accident and put the safety of the children in jeopardy.
N.B.  In the interests of pupil safety, parents are not permitted to drive into the school car park when dropping off/collecting pupils.