Congratulations to the Finalists in the National Intel Mini-Scientist Competition
Congratulations to three of our Fifth Class pupils, Clara Powell, Freya Starr and Addison O'Loughlin whose project on the solar-powered car came first in the regional final of the Intel Mini-Scientist competition on 5th December in Shannon. Clara and Freya, accompanied by Ms Hassett, our STEM Co-ordinator presented their project to a number of judges in Intel in Shannon who were so impressed with their work that they awarded them first place. The girls will take their project along with four others from the region to the national finals of the competition in Dublin in February.There were over 800 projects entered by pupils from schools all over the Clare/Limerick region so this really is a remarkable achievement to come in the top five out of all of these.
As a school community we are so proud and wish the girls well going forward.
A big thank you goes to Ms Hassett also for all her hard work with the Intel Mini-Scientist competition and for driving STEM within the school.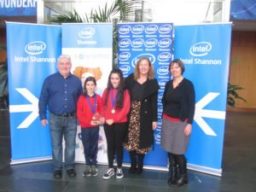 Back